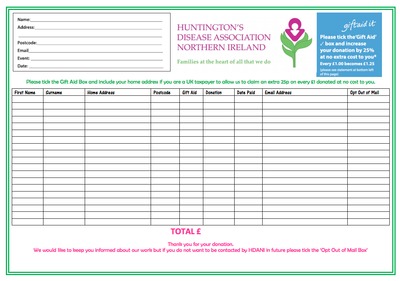 Undertaking a challenge?
If you'd like to take part in a sporting event to raise money for HDANI, download our Sponsorship form. Remember if sponsors are a UK taxpayer, make sure they include their home address and tick the Gift Aid Box to allow us to claim an extra 25p on every £1 donated. If you are keen to run, cycle, walk, climb or jump
Smarties Challenge
For a really fun and simple way to fundraise with your friends, classmates, team mates or colleagues why not start our Smarties Challenge? Turn sweets into services for HD Families! We suggest filling the tubes with £1 coins but you can use 20ps or any small change. There is a certificate for each venue and an award for the top fundraiser at each venue. Just email info@hdani.org.uk to get your pack sent out and get started.
Having a Party?
If you are having a birthday party and would like to ask friends and families for donations instead of gifts, then check out our guide.
Getting Married?
If you would like to make a gift to HDANI in lieu of wedding favours then you can order some table and place cards for your guests or you can choose to purchase pins, stickers or key rings from our store.
Thinking of making a legacy donation?
We are honoured when people think about helping others with HD when making a will. Every day in Northern Ireland local people transform lives by leaving a charitable gift in their will. It doesn't matter how much money you wish to leave to HDANI it will be gratefully received and used to help and support local patients, carers and family members living with the challenges of HD. You can
contact us
for more information or
find a local solictor
who will advise you.
It couldn't be easier!
Whatever way you choose to support our work, please let us know about it so we can thank you.
For help, inspiration or information, email info@hdani.org.uk.