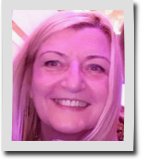 Full-Time Family Support Worker

Rita started working with Huntington's Disease in October 2023. She has a strong background in the community and voluntary sector having worked in various roles since she was a teeenager, including as a Youth Leader, Carer, Child Development, Stroke Co-ordinator and in Social Housing. We asked Rita to tell us a bit about herself.

"I love to spend time with my family, and friends and all the many pets (mainly dogs), that goes with it and get great pleasure from this. About 2 years ago I began sailing it's something I always wanted to do but didn't think I'd ever get the chance. I'm still learning and proof that it's never too late to learn. Love listening to music, walking and swimming when I get a wee bit of time.

I enjoy meeting people and learning new things and new ways to deal with different and sometimes difficult situations. I'm a great believer in everyone you meet either teaches you something or learns something from you. So I'm delighted to have the honour of meeting you all.

As a wise man once told me, 'We are only passing through
Do it one step at a time and enjoy the journey'
Remember
'Yesterday is History,
Tomorrow is a mystery
Today is a gift.
That's why they call it the Present.'

So let's start with today.